TINA'S JAMAICAN CARIBBEAN RESTAURANT
MEET TINA!
Tina was born in St. Elizabeth, Jamaica. She's lived in Rhode Island for over fifteen years and is married to Pastor Nevil Rowe. Tina and Nevil live in Pawtucket, Rhode Island, where they are parents of three grown children.
Tina worked for ten years as a nurse's assistant in two different nursing homes and also did private duty nursing. However, she loves cooking and decided to see if she could open a restaurant dedicated to traditional, home cooked Jamaican food. After searching for a year for a location, Tina chose a one-table restaurant, with four chairs and a take out window, in Providence, Rhode Island. Customers began to flock to Tina's and soon she had a few more tables on the sidewalk where folks would congregate to chat and enjoy their Jamaican fare.
When Tina's Jamaican Restaurant outgrew its original location, it moved to a larger building and then to its current 223 Atwells Avenue, Providence, RI location.
Tina's specialty is curried foods and jerk, all home prepared, home style, from scratch. Tina's Jamaican Caribbean Restaurant does a great deal of catering including servicing homeless shelters for Thanksgiving and other special meals. When Hurricane Ivan devasted the Caribbean, Tina spearheaded a drive to gather thirty barrels of donated clothing and food, plus money, to send to the devastated countries.
Tina is a woman of prayer. If you have any prayer intentions, please email Tina at tinasjamaican@hotmail.com and your requests will be prayed for. Please let Tina know if your prayers are answered!
God bless you all and please say a prayer for Tina, her family, and every customer at Tina's. Thank you!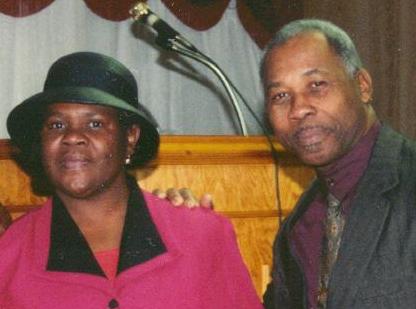 Tina and Nevil Rowe
FOOD SO GREAT YOU'LL SCRAPE YOUR PLATE!
Join Tina's Email List. Email us a tinasjamaican@hotmail.com